Ewa Slack Key Festival
Sep 1, 2019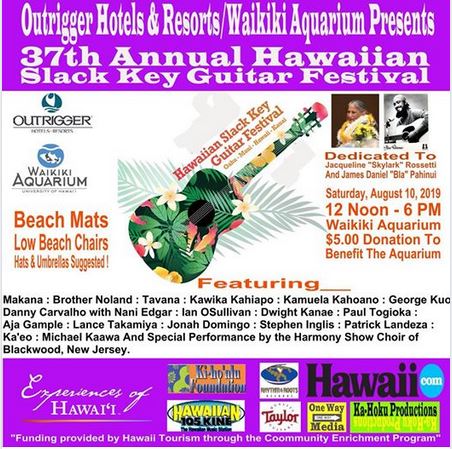 Waikiki Slack Key Festival
August 10, 2019
Maui Slack Key Festival
June 23, 2019
Windward Mall Slack Key Festival
Dec 8, 2019
Waikiki Slack Key Festival
August 11, 2019Wai
Slack Key Jam
August 10, 2018
Slack key veteran Lance Takamiya releases his first album

By John Berger
July 27, 2017
Star Advertiser
When a previously unknown artist appears on the scene with a debut project, it's natural to assume that this is someone who is only a few years into his career. Slack key guitarist Lance Takamiya is an exception. Although this is indeed his debut as a recording artist, Takamiya has been playing guitar for almost a half-century.
He started in his teens playing songs he heard on Top 40 radio, then discovered guitarist Mason Williams' 1968 instrumental hit, "Classical Gas" — and taught himself how to play it by listening to the record over and over and over and copying what he heard.
Takamiya tried that same "listen, copy" learning technique after hearing a Keola & Kapono Beamer record but found he couldn't duplicate what he heard them doing with Hawaiian slack key.
Years later Takamiya met slack key master Ozzie Kotani, took some lessons at the University of Hawaii at Manoa and showed potential sufficient to receive a Folk Arts Apprenticeship grant from the Hawaii State Foundation on Culture and the Arts.
With Kotani's mentorship, Takamiya made the transition from self-taught hobbyist to serious slack key guitarist. Through Kotani he met two other masters of the instrument — Raymond Kane and Leonard Kwan — and was invited to teach slack key at the University of Hawaii. He taught for 15 years and retired in 2009.
Summing up, this is Takamiya's first album, but he definitely isn't new to the instrument.
Takamiya pays homage to Hawaii and its culture with 10 originals that he plays in the traditional nahenahe (sweet, melodious) style that Kotani is known for. "Liliu's Waltz," written in memory of the dignity and grace shown by Lili'uokalani during and after the overthrow of the Hawaiian government in 1893, is the sweetest and most tranquil of all.
Two of the songs have lyrics. Those of the title song lay out the themes that Takamiya wants to convey. With "Haleiwa Town" he shares his aloha for the "old time" vibe of a place he hopes will somehow maintain some of its traditional charm despite the relentless demands to build on and exploit it.
Takamiya includes an introduction to his work in the liner notes. Information on the songs and
the slack key tunings he uses is available at alohaslack.com.
JUST ANNOUNCED: Artists performing in the festival this year include Halemanu, Lance Takamiya Music, Brother Noland - 2TU Records, Ltd., Danny Carvalho, Wilson Kanakaole, Tavana, Dwight Kanae, John Keanaaina, Ka'eo Hawaii, Kamuela Kahoano, Kevin Brown, Aja Gample, Jonah Domingo, George Kuo, & more!